Industrial Platform Scales
A&D is a leader in industrial scales and weighing scales, A&D are proud to offer a complete range of industrial
weighing scales, including bench scales, parcel scales, platform scales, warehouse scales, conveyor scales, and more.
You can rely on A&D Weighing Scales to provide robust and accurate solutions for all your industrial needs.
Choose A&D for the best choice of weighing scales for your manufacturing or warehousing environments.
For pricing, brochures and more, please click on the images or model numbers below.
EM Series – this value parcel scale provides high accuracy and durability. Exceptional user
friendly rotating/tilting indicator with clearly visible white backlight display. Battery powered
and optional data or control outputs available.
NOT SUITABLE FOR USE AS NMI TRADE APPROVED SCALES.
Bench mount or floor mount range of exceptional value platform scales. A choice of AC or
Battery power
operation. Optional data and control outputs available.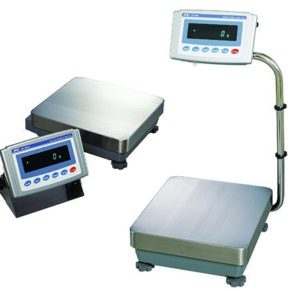 These are high capacity scales suitable for use in hostile environments. With IP65 level protection and a column mounted indicator the GP Warrior scale is ideal for working with products that produce spills or debris. Features capacities up to 101kg.
The SC Series is the middle level of a three tiered wet area Warrior scale selection offered by A&D. The SC is the perfect solution to those harsh environments where reliability under fire is the principle selection. Stainless Steel base. IP-68 rating protection.