Introducing A&D's Highly Washable All Stainless Steel Platform Scales
While realizing fast and accurate weighing, A&D's FG-CWP series of new waterproof platform scales allow cleaning with alcohol as well as rinse with water. This makes the series suitable for use in environments where avoiding hazards of contamination is imperative, such as food-processing factories.
In accordance with the IP67 rating of the IEC/EN standard 60529, the FG-CWP series is designed to prevent the intrusion of water even while immersed to a depth of 1 meter for 30 minutes. The scale also permits no particulate matters such as wheat flour or seasoned powder, which can damage the device, inside the housing.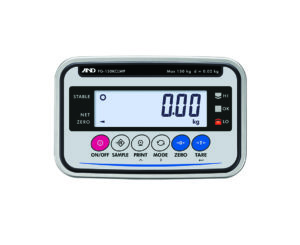 Bright and multi-colored LED comparator lights
With highly intuitive comparator lights, check weighing (judging whether the measured weight is within the designated limits) becomes far more accurate and efficient than with a numeric display alone. For later use and simple changeover, the scale stores up to 10 comparator limit settings. You can easily save time and costs with these lights.
Other useful features
 Large LCD digits (30 mm character height) with white backlight that provides excellent
visibility in dim light
Four selectable weighing resolutions: 1/3,000, 1/6,000 (or 1/7,500), 1/12,000 (or 15,000), and 1/30,000
Display hold function that makes it easy to read and record the display value when external
disturbances can occur unexpectedly
 Adjustable response characteristics to optimize performance under the given environmental
condition (e.g. vibration) at the location
 Counting mode to count a number of small pieces of the
same weight instantly and precisely
Freely adjustable display angle to suit the convenience of
individual operators
Password lock and key restriction functions to prevent
operators from making unwanted changes to the scale
settings
Impact shock detection (ISD) function that helps avoid
errors or damage to the load cell due to impact loads