(Ambient +5ºC to 400ºC)
Labec Vacuum Oven is manufactured in Australia with high quality stainless steel for easy maintenance and excellent durability. Used where the entire heat-treating process is to take place under vacuum or a precisely controlled atmospheres. An inconel element inside the vacuum chamber either wall or centre mounted with valves for the vacuum, bleed and purge of the oven chamber. Available in cylindrical or square chamber up to 100 litres capacity and temperature ranges of Ambient +5°C to 400°C, (See model specifications).
 Specifications
Available in 6 Models
Capacity (L): 37 ~ 100
Temp. Controller: Digital PID Controller
Temp. Min: Ambient +5°C
Temp. Max: 400°C (see specifications)
Temp. Setting Accuracy: 0.1°C
Temp. Fluctuation: ±0.2°C
Temp. Sensor: Type K
Heating System: Electric Element
Weight (kg): 60 ~ 125
Brochures
---
Digital Vacuum Ovens (up to +200ºC ±1ºC)
Models: HL-VO-27 to HL-VO-216
(Ambient to +200ºC ±1ºC)
Labec offer a Digital Vacuum Oven that is extremely accurate and reliable. The large flat heater embeded on the right and left side wall and bed provides excellent temperature uniformity and quick heating time. The oven features a PID controller and digital display. Silicon door packing and positive door latch ensures a tight seal. The vacuum and purge valve are located on top of the oven for easy access.
Specifications
Available in 4 Models
Capacity (L):27 | 64 | 125 | 216
Controller:Digital PID Controller with PT 100 ohm sensor
Range:Ambient up to +200°C ±1°C
Timer: Digital / 99hr, 59min
Heating Output (kw):5 ~ 6
Heating Time: 15 ~ 20 min up to 100°C
Vacuum Range: 10 ~ 760 mmHg
Weight (kg):65 | 105 | 145 | 170
Brochures
---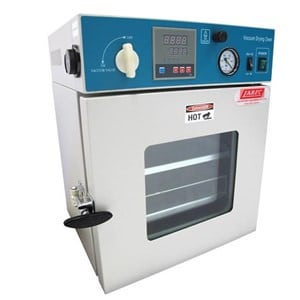 Precise Digital Vacuum Drying Oven (up to +250°C)
Models: C-PVO-25 | C-PVO-52 | C-PVO-92
(Ambient +5ºC to 250ºC)
Labec Precise Digital Vacuum Drying Oven is suitable for drying and heating powder articles, as well as disinfecting and sterilising of glass containers. With characteristics of short warming up times, low pollution and non destructive drying, it is widely used in the field of medicine, food, light industry, chemistry, agriculture, environmental protection and experiment.
Specifications
Available in 6 Models
Capacity (L):25 | 52 | 92
Min:Ambient +5°C
Max:250°C
Variation:RT +1- ~250ºC
Distinguishability:±1°C
Fluctuation:±1%
Vacuum Level:<133pa
Weight (kg):42 | 67 | 82
Brochures