New HORIBA IG-340 Gloss Checker
Gloss is an important visual property of an object's surface. The degree of light reflected from the object's surface is termed glossiness. However, the perception of glossiness is subjective and depends on the weather conditions, physical abilities of watching a person etc. The IG-340 gloss meter helps to quantify gloss measurement and perform objective numerical gloss value.
The gloss checker IG-340's user friendly interface allows intuitive operations for instant gloss measurement on site. Due to ergonomic and light weight design the IG-340 can be held and operated by one hand. High accuracy, repeatability and precision proven by more than 50,000 units sold worldwide makes it indispensable in object's appearance check and quality control.
The IG-340 meter uses very common measurement angle 60°, which allows accurate measurement from low gloss surfaces to highly polished textures.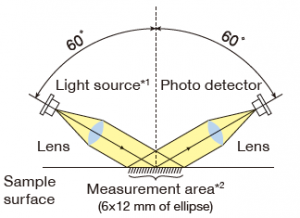 This enables gloss measurement of different materials: stone, wood, leather, rubber, glass, metal, plastic, and various application fields from floor maintenance, car polishing to stone and building materials appearance inspection. Ingress Protection IP42* enables outdoor gloss measurement and use in the fields where water drops are present.
Internal memory can store 100 readings and 200 average data with time and date. Instant data output via USB connection and without any dedicated software allows QA and other professional reports to be easily generated. The IG-340 does not need any special measurement technique. It can be easily used by everyone and become your right hand in reporting about performed works and quality inspection.